A PRESTIGE MARKET
The flagship market of the Saint-Ouen Puces, Paul Bert Serpette establishes itself as an avant-garde place, and is quick to rediscover the styles and to recognize masterpieces of unknown designers.
Thanks to the intuitions and the boldness of its antique dealers, the market became a label which created and established its own style.
It honours the combination of types and of periods. The brilliance of old centuries is mixed with the design, tribal art, archaeology and jeweller's craft...
Each end of the week, the stalls are pulling up their metal shutters and the merchants, still looking for the rare item, expose their last treasures. From improvised unpacking to sophisticated staging, the objects are here in a beautiful mix. It's a perpetually renewed custom.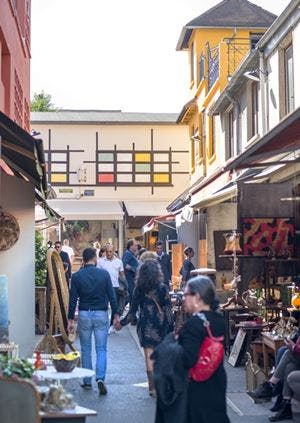 A DESIRED PUBLIC
Paul Bert Serpette welcomes a wide customer base. This place is more than ever federative mixing together passionate collectors, amateurs from America, Asia, Russia or from the Middle-East..., professionals of the Art sphere or bargain-hunters looking for wonders. The greatest stars visit Paul Bert Serpette when they come to Paris: Julia Roberts, Uma Turman, Sharon Stone, Mick Jagger, Jeremy Irons, Liam Neeson, Kanye West…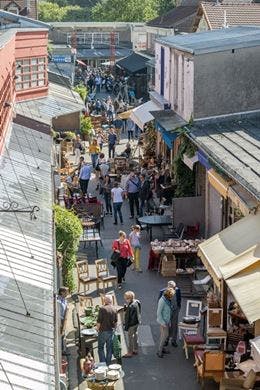 BARGAIN-HUNTING, AN ART FORM IN ITSELF
Old, trendy, design, fashion, anachronistically beautiful, with a strong pedigree, brilliantly anonymous. Each bargain-hunted and collected item has its history. It's always the result of an encounter, of an esthetical choc, of almost a romantic feeling. How to bargain-hunt is a great art carried on since decades by antique dealers of Paul Bert Serpette. Just as how to collect furniture, lamps, paintings, tableware, jewels, textiles, and objects from here or from elsewhere... In this market, you will find every type of old or new items. You just need to go where the flow of curiosity and specialities lead you.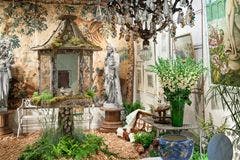 Plan of Paul Bert Serpette