Biron, for your inspiration
The Biron Market was born in 1925, between avenue Michelet, rue des Rosiers and rue Biron. At this time, the ragmen and dealers, leave the area of the current marshals, after the demolition of the forts and get a land to exercise their trade together.
The Biron Market, who took his name from the street, extends over a space of more than 7500m2 organized in two huge parallel alleys of 300m.
It was already a question at the time, offering a well-chosen merchandise referenced in the history of art, to stand out from the two competing markets, Malik which sold mainly clothes, and Vernaison, devoted to flea and second-hand goods.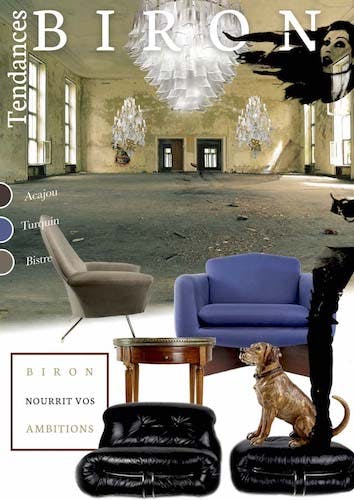 Demand for quality
For more than 90 years, the demand for quality has animated the spirit of the Biron Market and its 220 art dealers who still pass on their galleries from generation to generation.
A true itinerary of the ages of art history, the Marché Biron is the only one to offer a wide variety of specialized high-end merchandise: exceptional art objects and sumptuous furniture from the 18th and 19th centuries, Art Nouveau and Art Deco, paintings, ceramics, Far East, silverware, jewelry, design, ...
Aisle 1 of the market opens on a vast alley composed of shop windows whose antique furniture of all eras and origins, grapples chandeliers, faience, rare paintings, mirrors,... are an invitation to travel and time travel and as it were at a museum. Aisle 2, covered, is an invitation to another trip, more eclectic and with a more flea-like spirit.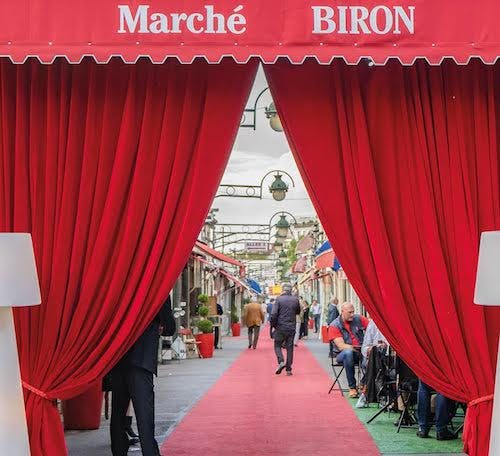 From the 17th to Design
Although the Biron Market was structured around a strong identity, that of antiques and the Napoleon III style, the market is now open at all times, from the seventeenth to the design of the twentieth century.
The quality and diversity of the antiques and art objects offered (silverware, paintings, exceptional furniture, signature jewelry, glassware, bronzes, ...) gives the market an international reputation that never fails.