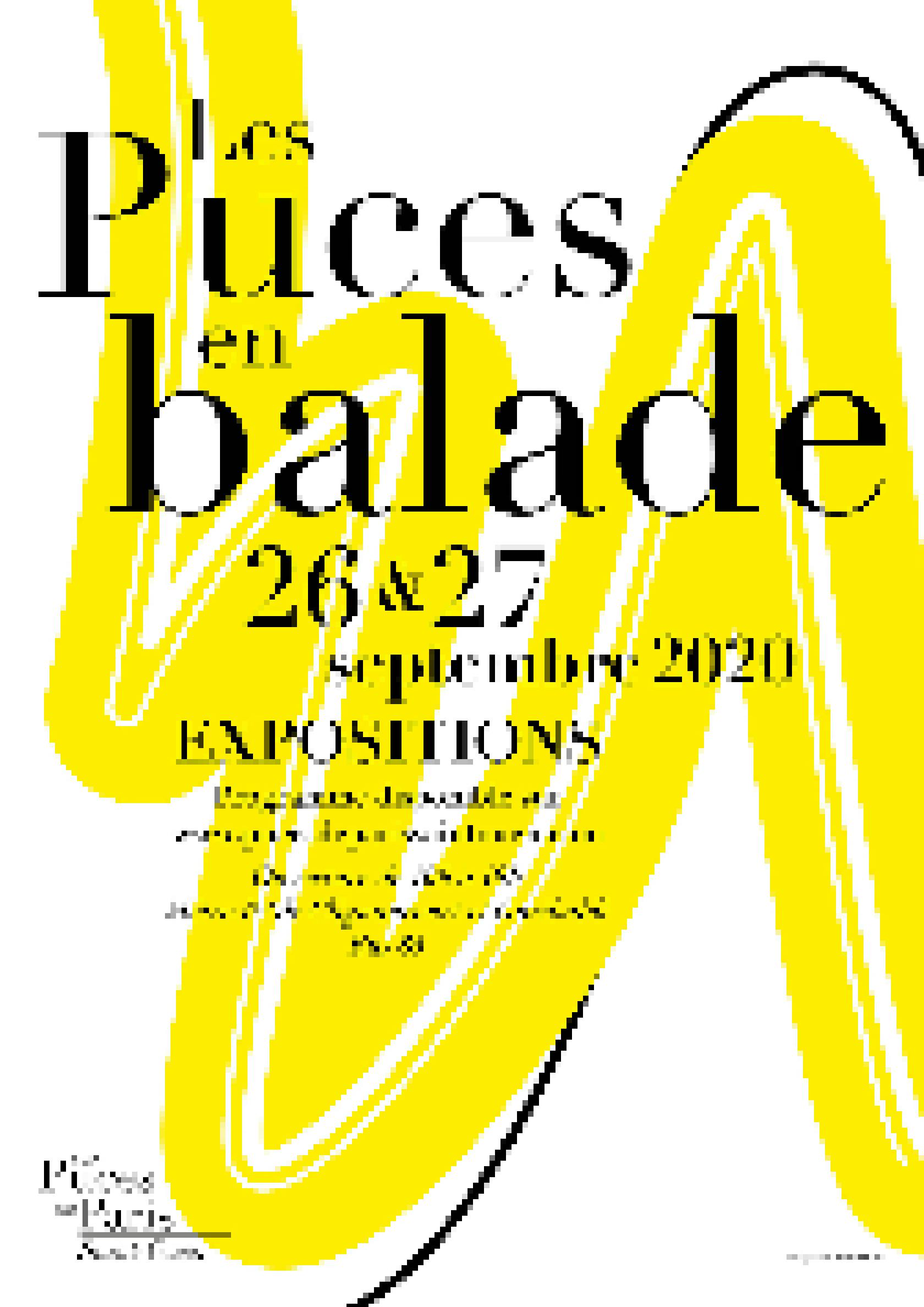 LES PUCES EN BALADE, an exceptional weekend on 26 & 27 September 2020
19-09-2020
This year, as the Covid-19 pandemic does not allow the organization of the traditional flea market party in the best conditions, the Paris Saint-Ouen Antique Market invites you to an exceptional weekend on 26 and 27 September on the theme «a ballad at the Flea Market».
LES PUCES EN BALADE – EXHIBITIONS PROGRAM :
BIRON MARKET
· BIRON MARKET TURNS UP THE VOLUME!
As part of the exceptional "Les Puces en Balade" weekend, the Biron market is organizing a series of activities. Note the launch of the Ouiici application, which connects bargain hunters looking for an object with dealers ...
ouiici.fr/
· PAOLA LUMBROSO GALLERY
is dedicating an exhibition to Marc Uzan from 26 September until 2 November
Aisle 1, gallery 102
www.auxtresorsperdus.com
paolalumbrosogallery@gmail.com
DAUPHINE MARKET
· LAURE MONTASTIER
Framer, she presents the work of painter Marie de Touchet. Jack-of-all-trades, she explores the play of matter and light through her compositions brushed in pastel tones. Iconocadre, booth 184
www.marche-dauphine.com/iconocadre/
laure.montastier@googlemail.com
· THE MARYAM AHI GALLERY
will open the exhibition Deep Black on the weekend of 26-27 September. It will present three previously unseen works by Iranian artist Mahsa Karimizadeh alongside works by artist Hamid Reza Fotouhi.
Booth 57
www.galeriemaryamahi.com
ahi.maryam@gmail.com
· ROZALI'ART GALLERY
specialized in Japanese prints, will begin the exhibition The Cult of the Tree in Japan on Saturday 26 September 2020, which will be on display until 26 October
Booth 73
www.estampes-japonaises.com
rozalia.remy@gmail.com
· TALK GALLERY
whose opening we announced in our previous issue, kicks off with the exhibition Présences opening on Saturday 26 September from 3pm to 7pm. This exhibition presents the universe of artists Daniele Davitti and Andrea Maiotti which will be held until 23 November.
Booths 48 & 49
talk-gallery.com/
Contact@talk-gallery.com
· MAISON RAKHMI
inaugurates its new space on 26 September. A new location allowing them to pre- sent more models of made-to-measure shoes.
Booth 104
rakhmi.com/
contact@rakhmi.com
· GALERIE DAUPHINE - The Invisibles of the Cold War: KGB and Stasi
Over a thousand objects from Stéphanie M.'s collection will be unveiled to the public for the first time from 26 September until 22 November.
Galerie Dauphine, 1st Floor
www.marche-dauphine.com/news/les-invisibles-de-la-guerre-froide/
PAUL BERT AND SERPETTE MARKETS
· AURÉLIEN JEAUNEAU
On the occasion of the publication of his monograph on Pierre Guariche by Editions Norma on 8 October 2020, Aurélien Jeauneau presents the exhibition «Pierre Guariche, supermoderne,
1955 - 1965» which will be presented until 26 October.
Paul Bert Market, aisle 6, booth 93
aurelien@nouveaux-standards.com
· ANTOINE CONDAU
will sign the monograph "Mithé Espelt - le luxe discret du quoti- dien" ("Mithé Espelt - the discreet luxury of everyday life") published by Odyssées editions. Opening of the exhibition and signature of the book on 26 September 2020.
Paul Bert Market, aisle 1, booth 124
· CHRISTINE RIVAULT AND PHILIPPE SCHUERMANS
present the exhibition «Eye Candy» featuring designer Antoine Schapira from 18 September. The artist will be present during the "Les Puces en Balade" weekend on 26 September.
Bert Market, aisle 1, booth 43
info@pschantiques.com
christine.rivault@gmail.com
· REMIX GALLERY
present highlights of the work of Philippe Starck with the exhibition
«Starck 80»
Paul Bert Market, aisle 6, booth 234
www.remixgallery.fr/
remixgallery@gmail.com
· GALERIE VAUCLAIR
present the exhibition «Sur les pas d'Elsa» recreating the atmos- phere of the house of this great lady of literature in love with rattan.
Paul Bert Market, aisle 6, booth 79
www.galerie-vauclair.com
info@galerie-vauclair.com
· NORMANDY PAINTED TRUNKS
or "Rouen chests" will be in the spotlight at Les couloirs du temps.
Paul Bert Market, aisle 2, booth 137
asse.desainterose@orange.fr
VERNAISON MARKET
· VIRGINIE SEBBAGH
presents the work of artist Francois Courbe. Exhibiting in art centers as well as in hospitals, the artist varies the mediums and mixes art, medicine and science giving birth to "artiology".
Aisle 7, booth 146 bis
wondervir@hotmail.com
· ARTEMISIA GALLERY
an exhibition dedicated to the history of the sprinkle spoon, this finely openwork spoon that used top be reserved for royal tables and prestigious banquets. The gallery will also show 5 museum-quality silver-han- dled knives from the 17th century, as well as a sugar bowl from the French Elysée pre- sidential palace.
Aisle 1, booth 33
www.antiquites-artsdelatable.com
antiquites.artemisia@wanadoo.fr
· BELLADONE
Between bottles and pharmacopoeia objects slip references to tarot and screen prints by contemporary artist Célia Gautier.
Aisle 6, stand 99 bis
· MADAME LAURENCE
will honor the paintings of
Georges Cheyssial.
Aisle 7, booth 126
www.madamelaurence.com/